Site Renovation Planning & Design
Leaders in cutting-edge strategies for renovating commercial and residential properties.
We help owners and managers plan impressive modern renovations that require less maintenance, are sustainable, and enhance property values.
Renovating landscapes to save water and maintenance
Irrigation water-use analysis, water-use reduction strategies & rebates
Sign & monument design, entryway design and landscaping
Landscape assessments and site analysis
Redesign of common areas, plazas, pool areas, and outdoor amenities
Drainage repair and damage mitigation, grading and retaining wall design
Green renovations, water conservation, and reducing maintenance
Helping project owners with contractor selection & construction observation
Excellent communication, responsiveness, and attention to detail
Working with our Professional Team
vs. Working Directly with a Maintenance Company or Contractor
Because we don't do installation, we can focus on working closely with you to create the perfect plan that meets your needs and budget- before you commit to a contractor.
Our small creative teams are affordable and easy to work with. We are professionals that will always return your calls, show up on time, and answer all of your questions.
We charge a flat rate for our services- this means that we gain nothing from trying to talk you into designing something that is more elaborate than you want, or more convenient to install. Our only job is to design a plan that completely meets your budget and requirements.
As landscape architects we know how to present design ideas to the decision makers on your team and help you visualize what the renovations will look like. Items like landscaping, irrigation, and drainage are complex systems that are highly visible- careful planning and discussion should go into their design.
When the design is completed, you have the ability to save money by competitively bidding the construction of our designed improvements. We can assist in soliciting and reviewing bids, and we can monitor the work of contractors on your behalf to make sure the project gets finished on time and within budget
ADA Accessible renovations (Americans with Disabilities Act)
Irrigation / Sprinklers – smart upgrades, ET smart controllers, rain sensors
Outdoor lighting, parking lot lighting, & landscape lighting
Roof drainage, downspout corrections, foundation drainage issues
Moving overhead utilities underground to improve asthetics
Xeriscape, native plantings, & sustainable landscapes
Building additions or expansions
Courtyards, water features, fencing, trails, sidewalks, & break areas
Common areas, fire pits, and dog parks
Project approvals through plan submittals to reviewing agencies
We Provide Renovation
Solutions For:
Homeowners Association (HOA's)

Multi-family, apartments, townhomes, and condominiums

Senior housing & assisted living
Metro districts
Corporate facilities & campuses
Office buildings & office parks
Educational facilities & campuses
Churches & religious facilities
Recreation centers, pools, & community centers
Medical facilities
Hotel, resort, and hospitality facilities
Retail and shopping centers
As professional landscape architects, we are experienced in working with clients to design beautiful and functional outdoor spaces, parking, drainage, and landscape areas.
We believe the same level of careful planning, design, and customer service should go into a renovation project as in a new development.
Outdoor Design Group's experienced team has perfected our approach to handle all of the unique challenges that renovation projects present. We know from experience what works and what doesn't.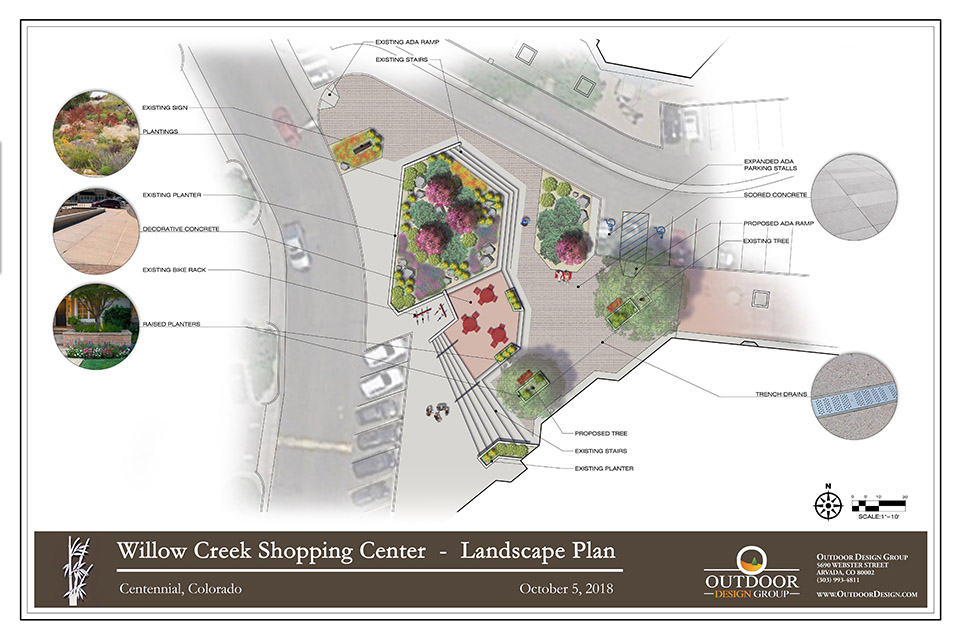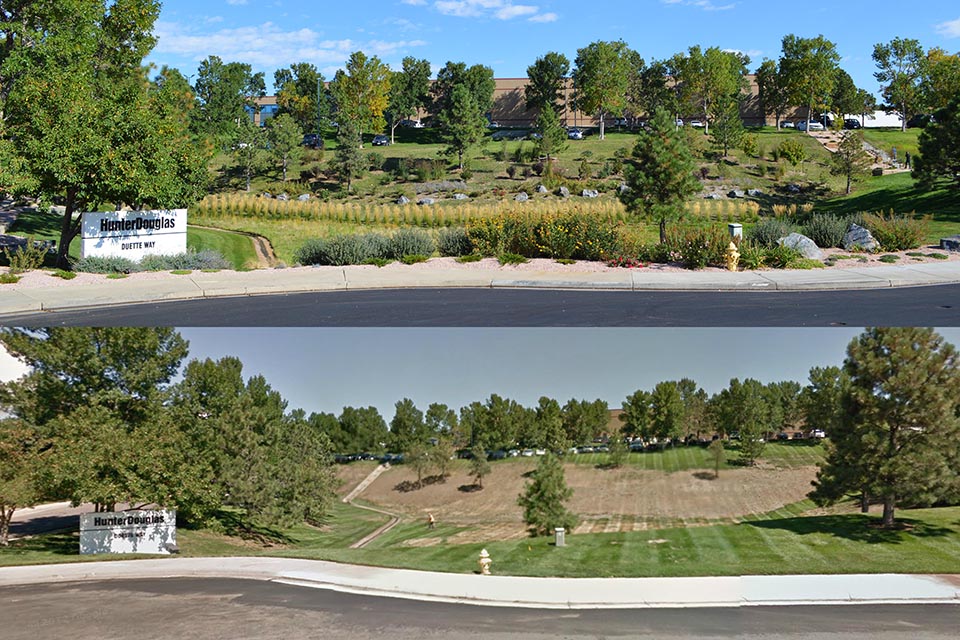 "Outdoor Design Group was hired by SouthPark HOA #2, a community I manage, to assess and come up with a plan to renovate the existing landscaping in order to conserve water. SouthPark HOA #2 uses 1/3 of it's annual budget to pay for the 14 million gallons of water use for its landscaping. ODG worked extremely close with the Board and spent an abundant amount of time assessing the landscape and coming up with a plan to reduce water use. Their final assessment plan for SouthPark was extremely detailed, organized, and far beyond my expectations."
– Kevin Lavene
"We hired Outdoor Design Group to design renovations for our 203 unit apartment complex in Aurora. We are also discussing plans with them on our 307 unit property. ODG has been a valuable asset, and we plan to continue to use Outdoor Design Group as a consultant for the re-positioning of our properties"
– Dan Wayne, Vice President,
Argentx Management
"We work with a lot of good contractors that serve our metro district clients. However, there are very few contractors in every profession whose quality of work and professionalism consistently distinguish themselves from their competitors. Outdoor Design Group is one of those distinguished contractors we rely on and recommend for all of our landscape projects"
– Charles R. Wolfersberger, CPA
"We were funded a portion of our request from the Colorado Garden Foundation to complete the WIC garden that you designed! We are currently working with other funders to solidify the remaining funding, and will plan to get the project together for the summer. I'll keep you updated on the process. Thank you, again, for the beautiful design! We are excited to see it come to fruition soon!"
– Carrie Zwanzig, Director of Grants Administration, FAMILY TREE, INC
"We had a complete redesign of our landscaping including replacement of a huge retaining wall. The designs were professional and easy to see the before and after. They pay great attention to details and are very knowledgeable. I love the new landscaping and have received tons of compliments."
– Anonymous
"Outdoor Design Group (ODG) has re-designed and renovated the landscaping in two houses for us over the past four years, from design concept and plans to placing plant material and contractor oversight with final walk-through. We were very pleased with both projects: they looked great and were right on budget! The first project was an extensive renovation with a large deck and involved a combo xeriscape/turf concept. The second project was a xeriscape front yard that passed an HOA review in record time, because it was such a good design with thorough plans. We definitely recommend ODG for residential landscape projects. They follow through, listen to your ideas, and make sure all plans are well implemented. "
– Shalegal